BBQ FEST!
July 6, 2019 @ 8:00 am

-

12:00 pm

Free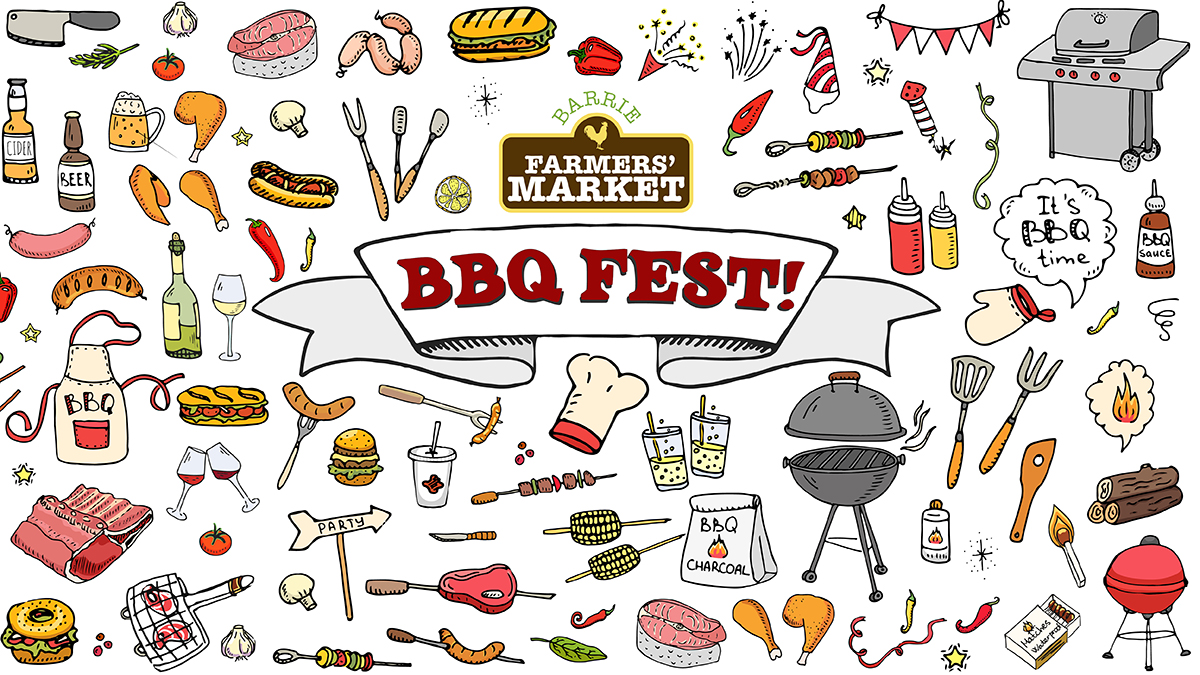 Nothing says summer in Simcoe County like barbeque. Bring the best bites back from the Barrie Farmers' Market and enjoy your own backyard or balcony BBQ FEST!
The market's vendors are stocking up with staples and surprises, so stop by to get all of your ready-to-eat favourites, do-it-yourself ingredients, sauces, sides, snacks, sweets, and sips. Watch for inspirational food and drink recipes and feature/on sale products on the market's Facebook page in the lead up to the event.
READY TO EAT:
Nicholyn Farms – Pulled pork sandwiches hot off the grill.
Thor Farms – Pulled beef on a bun.
Without Reservations – Sampling brand new Peruvian chicken anticuchos.
Holly's Sweets & Eats – Pulled beef and pulled pork on a bun.
MAINS:
Stone Horse Farm – 10% off smoked kielbasa and pork sausages. Try it in a slow cooker kielbasa and barbecue beans recipe.
Without Reservations – So many sous vide ribs to choose from: rack of Bar 5 Farms beef back ribs, boneless beef short ribs, rack of Stone Horse Farm pork side ribs, rack of Maple Ridge pork back ribs. Plus get free BBQ sauce with every purchase of ribs. Choose from coffee porter, stick rum, or balsamic plum butter.
Grandpa's Hungarian Sausages – Fresh or frozen sausages available in honey-garlic pork, turkey cranberry, or mild or hot pork. These are low fat and have no fillers, so make sure you cook 'em right! Make sure you follow the best way to grill sausages.
Borrow Family Farm – Pork kebabs are ready for the grill, like in this yogurt-marinated version or covered in a BBQ sauce bumped up with some Terry's Unique Hot Sauce.
Highmark Farms – Carmen will have wild boar (try it in these Wild Boar Carnitas Tacos) and ground lamb (perfect for Grilled Ground Lamb Kebabs).
Thor Farms – Traditional beef burgers are sure to please everyone and are ready in a jiffy.
Rosie Rain Meat Pies – Brand new and one-time only, Lorraine is making BBQ pulled chicken pot pie!
Carter Farms – Stop by to pick up some maple syrup and a recipe card to make your own Maple Garlic Spareribs.
SAUCES:
Terry's Unique Hot Sauce – A brand new Tropical Heat pineapple-habanero hot sauce.
Nicholyn Farms – Try one of their homemade BBQ sauces: honey mustard, maple, rib & chicken, honey garlic, 5 pepper hot, sweet & tangy, and smokey.
Adam's Honey – For those who don't like too much heat, try making your own simple basting sauce for Honey Grilled Chicken. Even better with ginger honey!
SIDES & SNACKS:
Chef Mario – Ready made cabbage-fennel coleslaw, Italian potato salad, zucchini chickpea salad, and Italian fregola salad.
BelleRoots Farm – Grab some freshly picked greens and make an easy Spinach and Strawberry Salad. You'll find the other ingredients you need from Huron Sun Foods, In A Nutshell, Say Cheese, and T&R Jones Family Farm.
Vertagro – Make a microgreens pesto for an easy-but-different take on pasta salad.
PJ Meats – A loaf of focaccia and some dry-cured meats are the start to an easy snack board. Get some stuffed olives from Say Cheese, bruschetta topping from Chef Mario, hummus and pickles from Nicholyn Farms, and microgreens from Vertagro, and you can keep everyone happy while you're cooking.
In A Nutshell – Whether you're looking for savoury or sweet, Steve has snacking nuts of all kinds. Try the beer nuts, Cajun mix, barbecue chipnuts, and jalapeno almonds for easy crowd pleasers.
Borrow Family Farm – Turn those mysterious garlic scapes into an amazing creamy dip for chips and veggies. Or throw them directly on the grill and eat them like green beans.
Bernier Farms – Make an fresh broccoli slaw (with cider vinegar from Huron Sun Foods and Sheldon Creek yogurt from Nicholyn Farms) or stock up on kale to make a big batch of kale chips for snacking.
El-Cam Farm – Assemble rosemary-vegetable skewers ahead of time and throw them on the grill when you're ready.
DESSERTS:
Homebaking by Linda Desroches – Pie, lemon squares, butter tarts, you name it. Arrive early to get your pick of flavours.
Auntie's Fine Foods – Not hosting a big gathering? Lee Ann sells pie by the slice!
Holly's Sweets & Eats – A Canadian cookout isn't complete without s'mores. Save some hassle and pick up ready-to-eat s'mores tarts.
T&R Jones Family Farm – Throw some strawberry skewers on the grill for a completely different dessert.
DRINKS:
T&R Jones Family Farm – Pick up fresh berries to make a simple and refreshing Strawberry Lemonade.
Heritage Estate Winery & Cidery – Kick up your lemonade recipe by mixing in some bubbly strawberry cider.
Pillitteri Estates Winery – Grab a couple bottles of wine and make a big batch of sangria for afternoon sipping or get adventurous and try a sangria slushie.
GIFTS & EXTRAS:
JR Kustom Woodworks – Impress your guests with a laser-etched cutting board showing the prime cuts of beef or pork. Or pick up a wood grill scraper to thank your hard-working grill master.
Hypertufa by Dan Edwards – Succulent planters can stay outside all season and are the perfect decoration for a patio table.
Make a morning of it by bringing the kids for arts and crafts with the Barrie Arts Committee, and enjoy live music from singer-guitarist Jakob Pearce on the main stage and market regulars Lee & Steve by the parking lot entrance while you start your weekend in downtown Barrie.