Applications for 2019-2020 markets are now being accepted.
There are three types of vendor at the Barrie Farmers' Market:
Grower / Farmer / Primary Producer (GFPs)
Baker / Prepared Foods / Secondary Producer
Artisan / Crafter
If you are a grower of vegetables, fruits, plants, herbs, or grain; a producer of eggs, dairy products, honey, maple syrup, or flour; a breeder of livestock, poultry, or fish; or if you grow, raise, harvest, or produce any other primary products then there is a good chance we have a space for you. The Barrie Farmers' Market works on a system of ratios based on the number of GFPs. The more GFPs we have, the more prepared foods and artisan vendors are permitted.
The Barrie Farmers' Market is open to vendors who live or operate their business in Simcoe County. Exceptions are made on a case-by-case basis for vendors outside of Simcoe County to offer customers Ontario-grown vegetables, fruit and other products that are not available from the local area.
The Application Process
Applications for the 2019-2020 market year are now being accepted with an initial deadline of March 2. The market year starts with the outdoor season at the beginning of May and ends with the indoor season at the end of April. New vendors can apply using a printable PDF or fill in the online form at https://form.jotform.com/63644455494263. 
After the Market Manager receives your completed application it is reviewed and follow-up questions are dealt with before it is passed on to the Board of Directors for a final decision.
If you have any questions about joining the Barrie Farmers' Market as a vendor then please contact the Market Manager at info@barriefarmersmarket.ca or in person during the market on Saturday mornings.
How to contact the market
By mail:
Barrie Farmers' Market, P.O. Box 20155, Barrie, ON, L4M 6E9
By email:
info@barriefarmersmarket.ca
How to find us:
The Barrie Farmers' Market is located at Barrie City Hall at 70 Collier Street. The easiest landmark to help you find your way is the big green archway that outlines the original market building from 1846.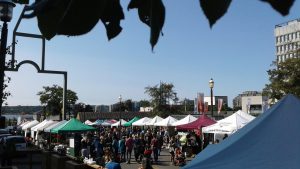 From the south:
Coming north on Highway 400, take the Dunlop Street east exit into Barrie. Follow Dunlop Street to Mulcaster Street then turn left. The market and Barrie City Hall are at the top of the hill at the intersection with Collier Street.
From the north:
Coming south on Highway 400, exit at Bayfield Street and turn left towards the waterfront. Turn left on Collier Street and follow it to Mulcaster Street.
Barrie Farmers' Market
Free parking nearby on Saturdays and evenings after 5pm.
Parking:
During market hours on Saturdays, parking is free on downtown Barrie streets and in the City Hall parking lot. There is also a paid parking garage located at 27 Collier Street.