Interested in becoming a vendor? We will be accepting applications for the 2018/2019 market year in February. Please watch this space for links to the updated application forms. The deadline for applications is March 3, 2018.
By mail:
Barrie Farmers' Market, P.O. Box 20155, Barrie, ON, L4M 6E9
By email:
info@barriefarmersmarket.ca
How to find us:
The Barrie Farmers' Market is located at Barrie City Hall at 70 Collier Street. The easiest landmark to help you find your way is the big green archway that outlines the original market building from 1846.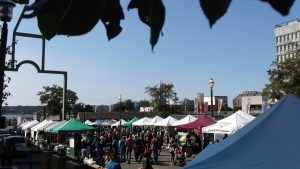 From the south:
Coming north on Highway 400, take the Dunlop Street east exit into Barrie. Follow Dunlop Street to Mulcaster Street then turn left. The market and Barrie City Hall are at the top of the hill at the intersection with Collier Street.
From the north:
Coming south on Highway 400, exit at Bayfield Street and turn left towards the waterfront. Turn left on Collier Street and follow it to Mulcaster Street.
Barrie Farmers' Market
Free parking nearby on Saturdays and evenings after 5pm.
Parking:
During market hours on Saturdays, parking is free on downtown Barrie streets and in the City Hall parking lot. There is also a paid parking garage located at 27 Collier Street.